All our vehicles have been adapted to carry the most they possible can in a safe and efficient way. All our clean, well maintained and reliable vans are equipped with the following.
Sat Navs
Heavy Duty Trolleys (upon request)
Ratchet Straps
Ropes and Bungees
Protective Transport Covers for Furniture
Heavy Duty Roof Racks (upon request)
Full public liability insurance
A Wide Range of Tools for Dismantling and Reassembling Furniture
Most Importantly, a Friendly Well Trained Member of Staff
We have many other vehicles which we mainly use for smaller single items deliveries.
Vehicle Sizes
Transit SWB
Loading Dimensions- 2.4m long x 1.7m wide x 1.5m high= 6.1 cubic meters
(max weight– 1 tonne)
Transit ELWB Jumbo
Loading Dimensions– 4.0m long x 1.7m wide x 1.9m high= 12.9 cubic meters
(Max weight-1.3 tonnes)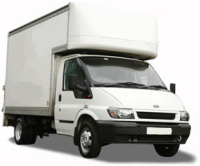 Luton Van
Loading Dimensions– 4.3m long x 1.7 m wide x 2.0 m high= 14.6 cubic meters
(max weight– 1.6 tonnes)